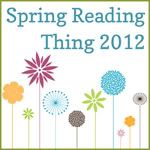 Officially, this week, spring is over. And, with it, comes the end of the 2012 Spring Reading Thing challenge hosted by Katrina at
Callapidder Days
.
How did I do on the challenge? Well, I read all but one of the books on my list. I plowed through
Mary, Queen of Scots, and the Murder of Lord Darnley
by Alison Weir -- in which those who had motivation for the murder could be summarized as "everyone in Scotland" -- and, after reading a book about British history with the constant references to "Lord So-and-So," which was, of course, not his name but merely his title, so that he (and there were many, many such "he's") would be referred to a couple of pages later by his name, or later, by a new title he might have acquired ... my brain just was not up for more mind-taxing references to titled nobility. So, "The King's Mistress," despite its being a fiction title and likely a lighter read, was postponed.
I did, however, read:
Unbroken: A World War II Story of Survival, Resilience, and Redemption
by Laura Hillenbrand,
Catching Fire (The Hunger Games, Book 2)
by Suzanne Collins (plus Mockinjay),
State of Wonder: A Novel (P.S.)
by Ann Patchett,
Food in History
by Reay Tannahill,
North With the Spring: A Naturalist's Record of a 17,000-Mile Journey With the North American Spring (American Seasons, 1st Season)
by Edwin Way Teale,
Founding Gardeners: The Revolutionary Generation, Nature, and the Shaping of the American Nation
by Andrea Wulf -- and a few more that were not originally on my list. I'm still working my way through my chronological read-through of the Bible this year (currently in Kings and Chronicles), and my read-alouds to the (now) six-year-old have continued, even though we haven't managed to get in there all of the classics that I'd like to implant in her brain. (It's hard to balance this out, with also having enough time to do read-alouds of the books she picks -- like the entire unicorn oeuvre of our library.) Probably our biggest read-aloud success this spring was Uncle Wiggily's Story Book. I was even willing to incur a two-day overdue fine (we couldn't renew it because it was on someone else's request list) so we could finish the book.
All of the books I read this spring were good; I loved Founding Gardeners. (I also felt very patriotic for reading it over Memorial Day weekend.) It focused on four (and a half, sort of --- Benjamin Franklin was referenced quite a bit, but he didn't get his own section) of the Founding Fathers -- George Washington, John Adams, Thomas Jefferson, James Madison -- and their involvement with plants, plantings and gardenings. (I can't remember what order they were addressed in the book, but it amuses me to list them in the order they held the U.S. Presidency; the first four people to do so.) I feel like I have not read as much about Madison before as I have the others, and was particularly intrigued by his section of the book. Also, now I want to go back to Monticello some day and focus more attention on the gardens during the visit.
I liked North with the Spring, but I think I liked Wandering Through Winter, with its daily diary approach, better. This one did make me wonder, though, what some of those natural areas Teale traveled in the 1950s look like today. Can you still camp on the island he references, etc.? 
Probably my favorite discovery during this challenge -- partly related to the challenge, partly to the need to read it for a book group -- was my use of my library's "Bestseller Express" program for Unbroken. I had never used it before and, while I still have some resentment about paying to use the library service, the 10-day rental fee of $4 for a book whose free circulation copies had 400-plus requests ahead of mine on them was pretty easy to use. I might use it again if there's something I really, really want to read right now (although usually, I can wait).
Thanks, Katrina, for hosting the Spring Reading Thing; I always find it encouraging to have some external motivation for accomplishing something (in this case, reading certain books) that I've been wanting and meaning to do anyway.